Hi, My Name is Pal
I look like a poodle, but I'm really a Bichon Frise. I live with Ron Roy and my brother Parker.

Parker and I live with Ron in a big house in Connecticut, and a small cabin in the woods in Massachusetts.

We go hiking around the pond. We see ducks, turtles, and fish. It's pretty in the woods.

There is a little bridge where we all sit and have lunch.

Here's what we do every day:
As soon as we wake up, Parker and I go outside. Then we come in and have breakfast. Then Ron goes into his office to write, and Parker and I take a nap on his bed.
In the afternoon, Ron goes into town to do errands. We go with him in the car!
Then Ron, Parker and I take a nap together.
We go for another walk before bedtime.
Living with a children's author is a lot of fun. Sometimes Ron lets us read the stories he's working on. If we beg, he lets us sit on his lap while he types at his computer.

One day, maybe he will teach us to type!

I have a new brother. His name is Parker, and he's two years old ... here's a picture of us together!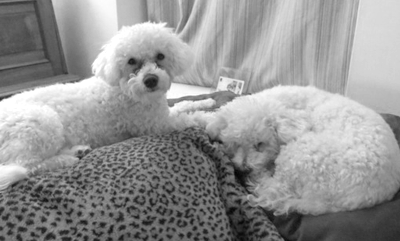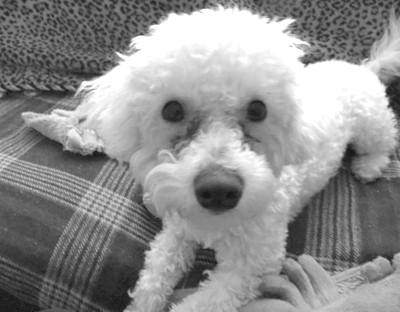 Tips for Young Writers
"Writing should be fun. Try to enjoy the process. If you, as the writer, are having fun, your readers will, too."
-- RR
My Book Series
A to Z Mysteries Series
Capital Mysteries Series
Calendar Mysteries Series
A to Z Mysteries Super Editions